Articles

During our Christmas Sale (until January 1), your Start Date can be postponed up to 3 months from the date you register for the Practice Session. From January 1, you will be able to postpone the beginning of your Practice Session up to 1 month.

Choose your Practice Session Start day on LMI website

1. Go to the Practice Session page and select the required account size.

2. On the registration page, enter all the required data, then click "Choose the Start Date." field

3. In the menu that appears, select the desired date of the beginning of the Practice Session. Carefully check all the data you have provided, enter the promo code (if any; the discounted price will be shown in the payment email you will get once your Practice Session is registered.) Click "Submit" button to complete the registration.


Choose your Practice Session Start day from the LMI Trade Report
1. Go to LMI Trade Report and click "Start a New Practice Session" button.

2. You will see the "NEW PRACTICE Session" window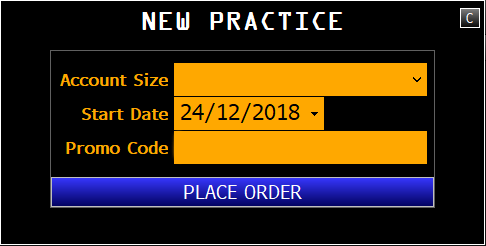 3. Choose your Account Size, the desired Start Date, enter your promo code (if any) and click "Place Order" to finish.